If only Lucius' rules were as awesome as this guy...
When the rumours of a new CSM dex started to surface I was hopeful that Lucius would get a handy boost to enable him to tackle all-comers and be a bit more survivable. I knew that getting a Celestine-style back from the dead effect would be out (because its maddeningly powerful) but I was hoping for something that would reflect the background that he takes over the body of the guy that killed him, rather than having his armour reflexively kick out after he gets a slap in the mouth.
What we did get was one of the items that wasn't improved massively from the previous 'dex. He is the only character to get a Doom Siren and he tends to get extra attacks in challenges, which you are doubly encouraged to partake in with the Boons table but there is one major drawback: Lucius is average in combat. In fact there's a song that reminds me of him (
Emerge
by Fischerspooner) for the repeated use of a single world: Hypermediocrity.
So you know the way that Slaanesh is the weakest of the Chaos Gods? Lucius epitomises that. He chases after grunts and can't tackle the big things (insert penis joke here) leaving them to others more suited. His sword is AP 3, he's got a 3+ save, 3 wounds and his Doom Siren is AP 3 as well. He doesn't have Eternal Warrior either despite the fact its in his name so he's clearly been designed to demolish other Marines. While it does appear nice on paper and a decent set-up for tourneys (where approx 60% of armies will be power-armoured variants) it does limit his targets to the Sergeants and not the more important characters that will lead the opposition because they tend to be able to take Lucius with them at worst (Captains with Power Weapons & Halos) or just batter him senseless for no loss (anyone with a 2+ save and S5 or more). That's even if you factor in Feel No Pain assuming he's running with a unit that has it.
It's both himself and Fabius (the Emperor's Children guys) that benefit the most from the rolls on the Boons table compared to other characters so pairing him up with a Dark Apostle might seem like an idea but that prevents you from getting Slaaneshi powers, which are actually really good, via a Sorcerer. Lucius is very much a case of 'If only...': if only had a 2+ save seeing as the return hits from his successful saves are AP 2, or if only his sword was AP 2 or any of a myriad of other buffs both for himself and the army as a whole beyond Noise Marine Troops would have been welcome.
I've listed what is going against him but what actually goes in his favour? I 6, Veteran of the Long War, -1 A for models in base and a Doom Siren are all handy. Not fantastic, but handy. He does typically get to swing first in a challenge but if something will accept his challenge then they're either sacrificial lambs or unafraid of him as mentioned above. You might want to double him up with another HQ choice and put them in a unit together so Lucius can walk through the plebs precision striking out anything that threatens him or the other character. The main issue here is that it'll almost be a prerequisite to have a guy with an AP 2 weapon to tie up other characters (insert Slaanesh joke here) and let Lucius do his thing.
Who helps him to bring the Noise?
Teaming him up with Noise Marines is a good idea seeing as they are both designed to mow down scrubs en masse and benefit from the FNP Icon that can be given to them. The main issue there is that it'll be wasteful for Lucius to join the squad if they're all equipped with Sonic Blasters seeing as they want to sit back and he wants to get stuck in. There is the option to run them as an assault unit kitted out with Bolters, BP & CCW with a Siren on the Champ to give them some decent overwatch fire options but like the other Cult choices they get quite expensive quickly.
There's also the option to put him with regular CSM and give them Fearless and sprint up the board firing Plasma or hop into a Rhino with a single special weapon (ugh). With the former you're getting shot at so need numbers but with the latter you're sitting pretty for a turn before you can get stuck in so you'll need other units to get shot at or pin the enemy down respectively.
Enough lamenting - here's a few lists.
Cover saves? No, only Jesus does.
Lucius
165 pts
MofS Lord on Bike with Sigil, Burning Brand, Lightning Claw, Meltabomb
175 pts
10 Noise Marines with 9 Sonic Blasters, Icon
240 pts
6 Noise Marines with Doom Siren, BP & CCW, Bolters, VotLW
197 pts
Rhino with Dozer
40 pts
10 CSM with 2 Meltaguns, VotLW, Icon
200 pts
Rhino with Dozer
40 pts
23 Cultists
102 pts
Helldrake
170 pts
Helldrake
170 pts
The Masque
90 pts
9 Daemonettes
126 pts
Daemon Prince with Wings, Power Armour, Soporific Musk, MoS
200 pts
The list looks a bit off until you realise that it absolutely murders Marine Equivalent units (MEQ) even when in cover with 5 AP 3 Flamers (3 of them Torrent) and the Masque to use Pavane of Slaanesh to get units to bunch up before you hit them to ensure you annihilate entire squads. The Helldrakes and the DP combo up to scratch stuff out of the sky with Vector Strikes although the DP is only S5 and will be better placed getting stuck in as soon as possible to make use of his S10 Smash attacks and Musk is there for Hit-and-Run so you don't get bogged down in challenges or units where you can't win.
The Daemonettes hide somewhere - there's always the option to drop one or two of them in order to buy upgrades like Meltabombs for anti-tank duty or something nice for the Prince. The Meltagun CSM & Noise Marines in their Rhinos stay close with Lucius travelling with the small unit so you've got 2 Doom Sirens and when the Rhino is wrecked they will all be able to hide behind it so they can hunker down for a turn without being destroyed by further shooting, depending upon clever positioning. The big NM squad at the back pours lots of shots into anything moving, or especially anything behind cover like an Aegis Defence Line.
The Biker Lord runs with the Cultists and marches up the field to support Lucius when he gets stuck in so you've got 3 AP 3 Templates to wail on people before they dive in to an assault. You don't have Spawn or Bikers to cockblock stuff and the lack of Heavy Weapons support will mean you get hammered for a turn or two before the cavalry arrives but rest assured when it does a unit dies. Thanks to the Daemonforge rule the Helldrake also has a decent chance to deal damage to a car park if it wants to get at them while getting at a hidden unit amongst them.
One issue that Noise Marines have is that their Blasters are relatively short-ranged. One way to get around this is to have them Infiltrate but with the odds of Lucius allowing that only 1 in 6, you'll have to look elsewhere for it.
Pirate Music Party
DJ Huron Blackheart
160 pts
Lucius
165 pts
10 NM with 9 Blasters, Meltabomb, Doom Siren, Icon
257 pts
10 NM with 9 Blasters, Meltabomb, Doom Siren, Icon
257 pts
20 Cultists
90 pts
20 Cultists
90 pts
6 Bikers with VotLW, 2 Meltaguns, Meltabomb
155 pts
6 Bikers with VotLW, 2 Meltaguns, Meltabomb
155 pts
6 Bikers with VotLW, 2 Plasma guns
165 pts
5 Havocs with 4 Autocannons
115 pts
5 Havocs with 4 Autocannons
115 pts
5 Havocs with 4 Autocannons
115 pts
So Mixmaster Huron takes over and he gets to throw the Noise Marines out on a flank and back them up with lots of other guys to open transports so they can lay down the sound. His powers are alright, even if he's too coked-up to know what he's playing at any one time (
Biomancy
,
Pyromancy
or
Divination
) and doesn't get access to the Primaris Power, which is a pity as Prescience would be a really good addition to the Chaos list and afaik there is no way to get it into the CSM army even using Allies at present.
After I hit 1746 with the list above there were still options open to me. One thing would be to add an Aegis Defence Line with Quad Autocannon and sit the Marines/Cultists and Havocs behind it to babysit an objective. Another would be to bulk up the CSM and make them Slaaneshi to give them FNP and push their numbers up to 15 or 16 guys. parked on an objective.
Instead I went with a 3rd Ld 10 unit of Bikers with 2 x Plasma and bulked up both units of Cultists. The Characters will go with a unit each and one pushes forward with the other hanging back. I'd probably use Lucius more aggressively and have Huron dive in to bail him out with his Claw or Axe and depending upon the tunes he's blaring at the time - if he gets Biomancy or Divination he's hoping to buff himself while he just cries if he gets Pyromancy. Unless he's got that Invul save one. Fire Sword is it?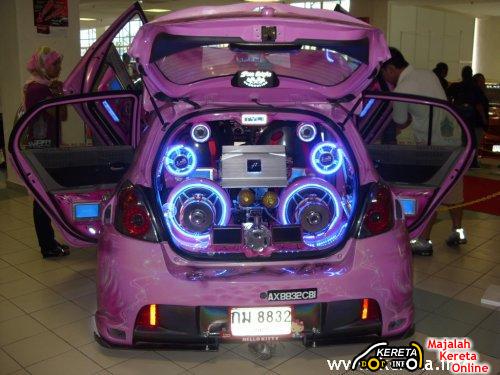 Imagine this full of screaming psychos. Like any Friday night in town
Boy Racers
Lucius
165 pts
8 Noise Marines with Doom Siren, Meltabomb, CCW, Icon
133 pts
Rhino with Dozer Blade
40 pts
6 Noise Marines with Doom Siren, Meltabomb, CCW
133 pts
Rhino with Dozer Blade
40 pts
6 Noise Marines with Doom Siren, Meltabomb, CCW
133 pts
Rhino with Dozer Blade
40 pts
6 Noise Marines with Doom Siren, Meltabomb, CCW
133 pts
Rhino with Dozer Blade
40 pts
10 CSM with 2 Meltas, VotLW, CCW
190 pts
Rhino with Dozer Blade
40 pts
10 CSM with 2 Meltas, VotLW, CCW
190 pts
Rhino with Dozer Blade
40 pts
Herald on Exalted Chariot with Soporific Musk, Unholy Might
155 pts
12 Daemonettes
168 pts
3 Seeker Chariots
120 pts
As the picture suggests this is where the boy racers (and girls too) drive around making as much noise as they can, slowly driving anything nearby insane with the ear-shattering sound repetitive beats. Good man
Stewie:
you show them how its done.
While the units in the list are quite small they pack a bit of punch as they all have Doom Sirens, with the large unit having 2 as well as Feel No Pain, and Bolters to pour fire at any units nearby but they also have Rhinos in order to cockblock and keep themselves out of harm's way. The Undecided squads back them up with their Meltas being used to take out Land Raiders and such while the Daemons will drop down a flank and get stuck in. The Herald joins the Chariots and gives them Hit and Run and a couple more Hull Points as well as a tonne more impact hits when they assault. The Daemonettes are another scoring unit that are large enough to swing a combat if they charge into an existing one so they don't get destroyed by Overwatch fire. They can also be used more defensively and dropped behind a ruin or LOS-blocking terrain and run out and grab an objective late in the game.
There's a few lists that have been running through my head in the past few days. Sadly, no matter what I do I can't bring myself to like Lucius because he's just like the new Chaos book: Alright. Not bad by any means but just not that good. I keep looking to get a more effective HQ for roughly the same points and I keep going back to regular Chaos Lords and Sorcerers to lead my Slaanesh armies.
Here's an example:
Suck it Lucius: My bitches are BlackTemplars.
MofS Lord on Bike with Sigil, Burning Brand, Lightning Claw, Meltabomb
175 pts
Well, he's 10 points more expensive than his screamy counterpart but he's a damn sight better - Toughness 5 and a 4+ Invul makes him way harder to hurt and while he doesn't deal as much damage in a challenge he does have the Burning Brand to roast guys more than 8" away, which at the expense of a point of strength, more than compensates. With the bike he's also got the speed to move from unit to unit spreading Fearless as well as better position himself to snipe particular guys out of a unit whereas Lucius either footslogs or hops out of a ride, flames and sits there for a turn. Now before you shout that Doom Sirens are S5 and can Overwatch, the Burning Brand does it too albeit at S4. Oh yes, and Meltabombs. They are there to help him crack open vehicles or give him a better chance of dealing a wound to a Monster.

I could go on with alternative HQ builds but I hope that the above gives you food for thought when it comes to including Lucius in a build. As I said at the start, there was a lot of potential and he could have been much better but he leaves a lot to be desired. It might be best to turn off the music and leave his party early before you find out just how bad he is for yourself and go home disappointed. It's a pity really.