So continuing with the advice
thrown out for Caolán
which Dave took up I've been able to witness an all-DoA (Descent of Angels) army in action for the past few weeks and have been
providing suggestions
to tweak it after each game.
Its evolved from a toy-heavy to a boy-heavy (oh dear) list and the win ratio is starting to improve against a variety of opponents. It is of course early days but the signs are looking good at this should hopefully be putting in an appearance at Warpcon in a few weeks.
So what did he start with and what is he now running?
At the start it was pretty top-heavy with Elite units and lots of gear on the support units. It had gone through more Gardaí (Sang Guard, Honour Guard and Vanguard) than a nurse in Copperface Jacks before it settled on something.
Honour Guard: You're doing it wrong.
Honour Guard
The Honour Guard started life as a mixed unit that had both shooting and combat gear before being trimmed down to a more slimline shooting unit toting 3 Meltas and a Fist. While they were reliable in slagging a tank when they arrived they were causing problems - they had to drop close to get the most from their guns and they were dragging units with them so they could be covered by the mini-Priest's FNP bubble.
As a result they were prime targets for enemy fire/assaults and when they were tied up or killed off a lot of the army's firepower was taken with them on top of losing the Priest. The army's firepower was too concentrated with the HG in there. Neither were they particularly good in combat because unlike their Vanilla cousins they aren't able to carry guns *and* combat weapons at the same time so they were able to tarpit units but only after sitting still for a turn getting blasted before they could dive into enemy units the following turn by which time they were often weakened beyond effectiveness.
After a few more games we realised that a unit of RAS could do the job just as well by splitting up and having the Meltas target tanks and the Sarge go with the other 4 behind them and wait a turn to assault bringing a Fist into play. To top it off RAS are also scoring. The Honour Guard were replaced.
Sanguinary Guard
Here again for your viewing pleasure: Burkhardt's Sang Guard.
These were suggested by some people over on B&C as a scary assault unit that would be able to chew through units because of the sheer weight of S5 Master-crafted power weapon attacks and their 2+ save backed by Feel No Pain.
They can.
But only if your opponent doesn't turn his attention to them with low AP weaponry or throw his own Power Weapons or good Invul savers at them first.
They've got 2 main problems: range and saves.
Range refers to their guns as they can only carry pistols (Plasma or Infernus) which limits their threat radius and requires you to go balls-deep when arriving by Jump Pack. The latter is fine for a 5 man RAS squad (relatively expendable) or a Vanvet squad (getting into assault range) but not so much for the Golden boys of the Jumper list. If you elect to keep them with their Angelus Bolters then you won't be able to crack open transports and will have to rely on other units to bust them open, reducing the amount of vehicles you can shoot at in a turn.
Saves simply points to their lack of an Invulnerable save with their best offering often the Shield cast by a Libby or having another unit taking point in Operation Human Shield nearby. These only work against shooting so the unit relies heavily on charging into combat and mushing stuff to stay alive while other units buy time by taking out things that threaten them.
I would actually rate these more highly than the Honour Guard in a Jumper list as they give you more combat punch for a lower cost although this comes at the expense of Invul saves. A single fist is enough to get them through most games and cover their asses in case they get jumped by a Walker or tough MC. I don't think a Chapter Banner is worth it though as its overpriced and the points can be put toward a Sang Priest that'll be of more overall benefit to the unit, and the army for that matter.
Vanguard
The Vanguard were the only elite jumpers that featured in every one of Dave's lists and the only thing that varied was how many of them were and what they were armed with.
Lacking any ranged choice meant that instead of split-roles they were dedicated to assault and other units would provide the firepower. This wasn't a problem by any means as the units with guns can open transports giving the Vanguard options for the assault phase when they Heroically Intervene. This is huge - you're able to tarpit units or take out support as soon as you land buying time or taking out threats that would cause your army problems. Think Long Fangs.
There's two other things that make them great in a DofA list:
1. Having the flexibility of keeping them cheap and cheerful (a Fist for 10 points) or loading them down with lots of different gear so they can (a) bag any target and (b) wound allocate.
2. Not requiring a Priest babysitter and his FC bubble to do serious damage to your opponent.
There were a couple of things tried over the course of a few games like taking 10 of them and splitting them into 2 units: 1 built for fighting units with 2 Claws, Fist and 5 Storm Shields while the other 5 got 5 Meltabombs. There were arguments made about whether it was better to take a single 10-man or 2 5-man units. With the former they're the same points but you only have to make one reserve roll with a re-roll for the lot of them and can split the unit up as you see fit when you combat squad while the latter gives you a free special weapon with the Sergeant in each squad.
In the end, keeping the points of such an expendable unit down was the best course of action and a single 5-man unit was taken. When these bad boys drop you need to be getting them close (within 4") to guarantee that you'll get to assault in the same turn and you run the risk of having the unit mishap, moreso than the other units your DoA list because they don't need to be so close from the off to be effective. Because of this you don't want to pour points into them - you'll need to keep those for support units that will enable you to get the most from your Vanvets e.g. another RAS with 2 Meltas can pop a tank and let the Vanvets assault the former occupants, diverting attention away from your scoring unit.
Dave has settled on 5 of them with a Fist, 2 Claws, 4 Storm Shields and 1 Meltabomb. It can smack MC's around with or without FC, can bag tanks reliably with 4 S8 attacks on the charge (3 Fist, 1 bomb) and has reasonable durability with its Storm Shields saving it from Power Weapons and MCs in combat and from low AP shooting. Having a Priest nearby isn't the necessity it is with the Sang Guard and they're only slightly more expensive than a similarly-equipped Honour Guard but they have the added bonus of not having to hang around for a turn getting shot before they can assault if they Deep Strike.
Elite Jumpers contribution to each phase
Movement
While they can all move 12" a turn, the Vanvets and HG are freer in where they move when they have Storm Shields as they'll be able to move into dangerous terrain without fear of breaking their necks compared to the Sang Guard. FNP won't help anyone here.
Best:
Vanguard/Honour Guard
Shooting
The Vanguard don't even get out of the starting blocks here. While the Sang Guard get cheap anti-tank guns for upgrades they are hampered by poor range and so the winner has to be the Honour Guard with the option to give them any combo of Meltagun, Plasmagun or Flamer.
Best:
Honour Guard
Assault
Despite the Sang Guard coming with master-crafted power weapons and Honour Guard having customisability and a built-in Priest this has to go to the Vanvets simply because of their Heroic Intervention rule allowing them to get stuck in straight away if they drop in and buy time for the rest of the army by removing a threat or even multiple threats, as well as having the option to be more survivable by buying more combat gear.
Best:
Vanguard
Best overall choice for Pure Jumpers:
Vanguard
RAS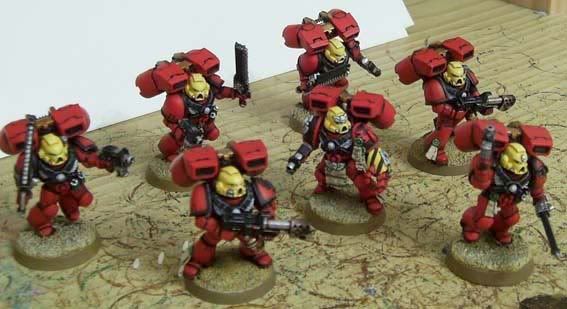 Librarium Online provided these. 2 Flamers. LOL
The number of RAS in an-all Jump list proved to be surprisingly contentious. Running with some suggestions from Kirby I was advocating taking 30 and loading up on toys afterwards but after a few games it became apparent that it simply wasn't enough. When combat squadded the small units were being picked apart one by one as they couldn't stand up to sustained firepower or half-decent assault units (Grey Hunters > RAS) but the main thing was there simply wasn't enough of the small units and as a result it wasn't hard for most of them to get swamped in a single turn and force the remaining units to get out of dodge or risk being killed off too.
So with the all-Jump theme in mind the move was made to take 40 in 4 squads of 10 with 2 Meltas and a Fist in each. The army's durability increased as it became quite hard to chew through all of those when you've only got 4 or 5 turns on average to fight back, and 1 of those turns comes after the BA gets to shoot at you without reprisal, assuming they all use DofA. It is also harder to hunt down 8 squads of 5 than 6 squads of 5 and it spreads the army's offensive power out more by allowing you to shoot at more targets. When bounding across the board 40+ Marines with FNP is a scary prospect and can get through the torrent of fire more easily than they can the lower-shot/higher quality of fire that many armies like to throw out when they drop in (think Shuricannon Eldar vs Lance Dark Eldar).
When a character is added to the mix you can spread the firepower threat around even more - not only do you have 2 Meltas in a 5 man unit but the other combat squad with the Fist that normally sits behind them wating to pounce next turn can harbour a Sang Priest's CombiMelta and a Libby's Blood Lance. You're also getting more shots to crack open tanks and allow your Vanvets in.
One of Jawaball's babies.
HQ
Originally this fluctuated between a number of combat characters like Meph, the Sanguinor and Astorath. They turned out to be too expensive, not killy enough or not tough enough and when they went the army didn't have enough other warm bodies to last more than a few turns as the enemy was able to turn its attention to them having dealt with the biggest threat in their midst. There was also the problem that they were only built for combat and weren't able to add to the army's ranged threat. So the Libby was added.
This resulted in having a cheap multi-tasker taking up the slots so it could add to the army's shooting and firepower and not be such an albatross around their neck if they died. One Libby was brought in with Rage and Shield but with the lack of dedicated assault units Rage was largely wasted so it was swapped for Lance. This proved useful as you could drop the Libby with a combat unit (Sarge with Fist and 4 grunts) and it too could shoot and do damage to mech armies by allowing Dave to hit more targets. It proved so useful that a 2nd one was added with the same powers, although like a college student, much experimentation has been carried out. There's been some flirting with the less popular powers (Fear and Sword) but Lance has been a staple because it gives you another ranged attack when the army chooses to drop.
Sang Priests
For a while there were 2 of these and the Honour Guard but when the Honour Guard were dropped for being unGerman (inefficient) the army really missed the 3rd Priest because 2 didn't allow you to cover both the Marines with FNP and the aggressive units (Gardaí) with FC at the same time. You had to pick and choose which units were going to have a Priest nearby as you couldn't cover everything at once unless you were willing to risk getting hockeyed about by Templates and Blast Markers by packing your units close together.
Eventually 3 Priests to back up the 40 Marines were decided upon. Not just because they provided a bubble but also because they could be used to add to the army's firepower - 3 Priests with Jump Packs and CombiMeltas can be spread out enough to allow you to buff your units with FNP and take out tanks when they drop by being added to units that already have Meltas or, like the Libbys above, being put into a combat squad that wouldn't normally have a gun in it.
The Army (1750 points)
Libby with Jump Pack,
Shield
and
Lance
Libby with Jump Pack,
Fear
and
Lance
3 x Sang Priest with Jump Pack and CombiMelta
4 x 10 RAS with Fist, 2 Meltaguns
5 Vanguard with 4 Storm Shields, Meltabomb, Fist and 2 Claws
This army does have 2 weaknesses though.
1. The absence of long-ranged shooting is a glaring problem and it means that you don't have anything to stand off and pound the enemy taking the pressure off your units that are in the enemy's face. You have to decide how the units you have are going to support each other with outside help - deciding how many units will combat squad and where the ranged weaponry will go will be important compared to a hybrid list like
Bloodhammer or Bloodrodeo
.
2. The lack of a dedicated combat unit beyond the Vanguard means that against combat-oriented armies or specific units you will have to play keep-away (Terminators et al) in order to keep your men alive because they're just Marines - FNP won't save you from a Power Weapon, Fist or MC and Walkers will chew through your units. Thankfully everything moves 12" so you should be able to do this.
I'll add some photos of deployment and target priority choices next. Hopefully what has come so far proves useful to those thinking of running DoA lists.